Dashboard:
| S.No. | Icon | Customer | Details |
| --- | --- | --- | --- |
| 1 | Member Login | Member | There is a login id and password for each member mill. Using this login information mills can utilize the SITRA's online testing services. |
| 2 | View Report | All | Using this option, mills can view and download a particular test report. For this SITRA will provide, a sample inward number and one time access code at the time of sample receipt either through SMS or e-mail. |
| 3 | Update Profile | Member | Using this option, member mills can change their address and other details. |
| 4 | Testing Request | Member | Using this menu, mills can send sample testing request on-line. |
| 5 | Sample status | Member | Using this option, mills may view the status of samples sent by them. |
| 6 | Test Report Archives | Member | Using this option, mills can view and download older reports. |
| 7 | Fibre Tests | All | |
| 8 | Yarn Tests | All | Shows the list of tests done by SITRA along with standards followed, rate and also sample size. |
| 9 | Fabric Tests | All | |
| 10 | Contact Us | All | Using this option, mills can send messages to SITRA |
| 11 | Announcement | Member | Member mills can see all the invoices generated |
| 12 | SITRA Website | All | Quick link to SITRA website |
| 13 | Meditech Website | All | Quick link to SITRA Meditech website |
| 14 | Help | All | Help |
2. View Report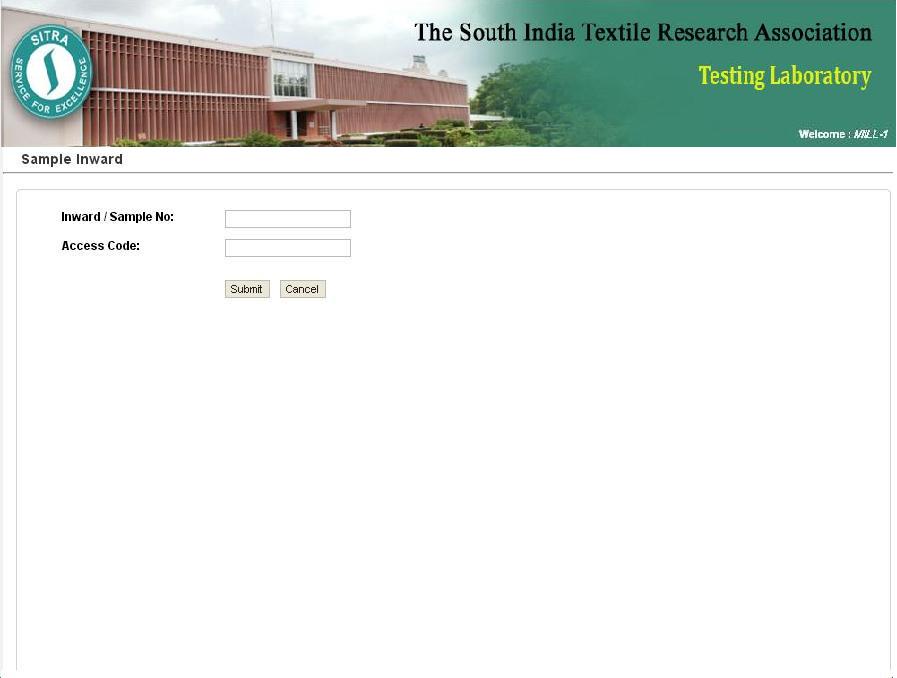 At the time of receipt of sample at SITRA, for each sample testing request an inward no. is generated along with access code to view the results of the samples on line (access code is valid only for that sample inward). Using this information, mills can view and download results as well as invoice at any time. Sample view report screen is given below.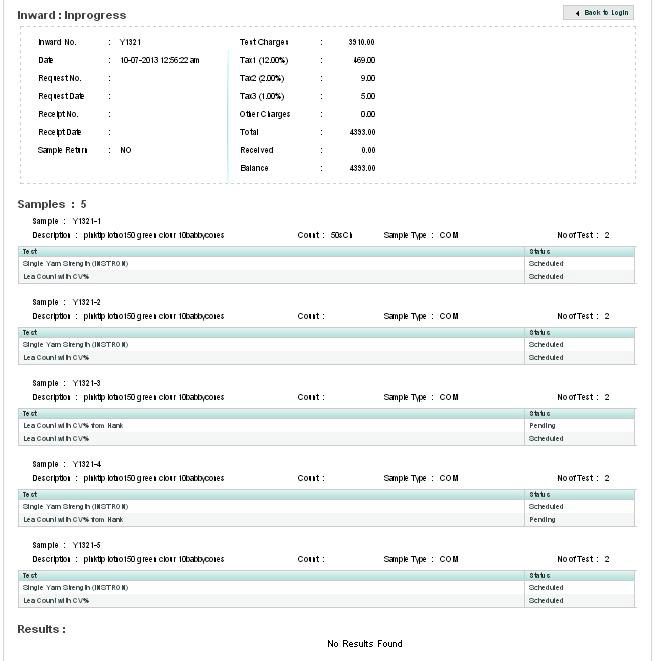 Once testing is completed, results are shown at the bottom. Example screen given below. Using download pdf option we can download machine printouts of particular test.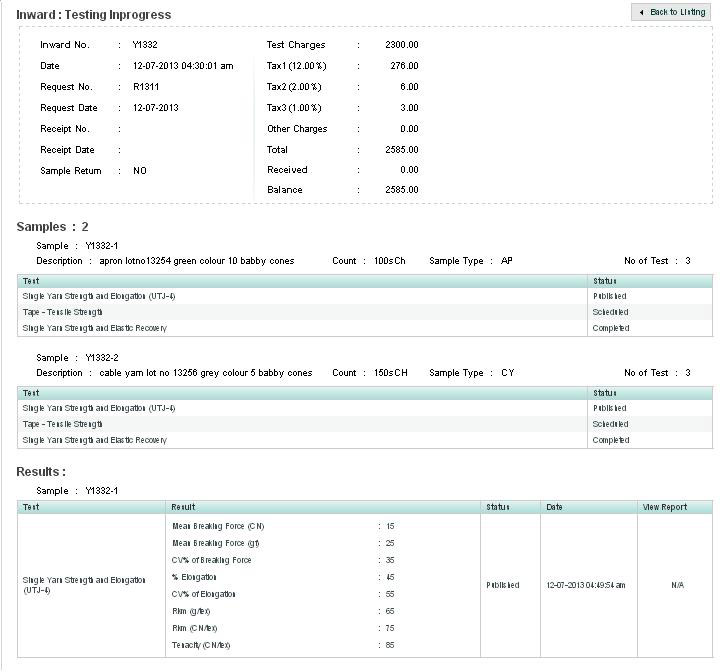 3. Update profile
Using this option member mills can change their address and other contact details. If mail id or mobile number is missing, it is indicated in the home page itself so that they can update the data immediately.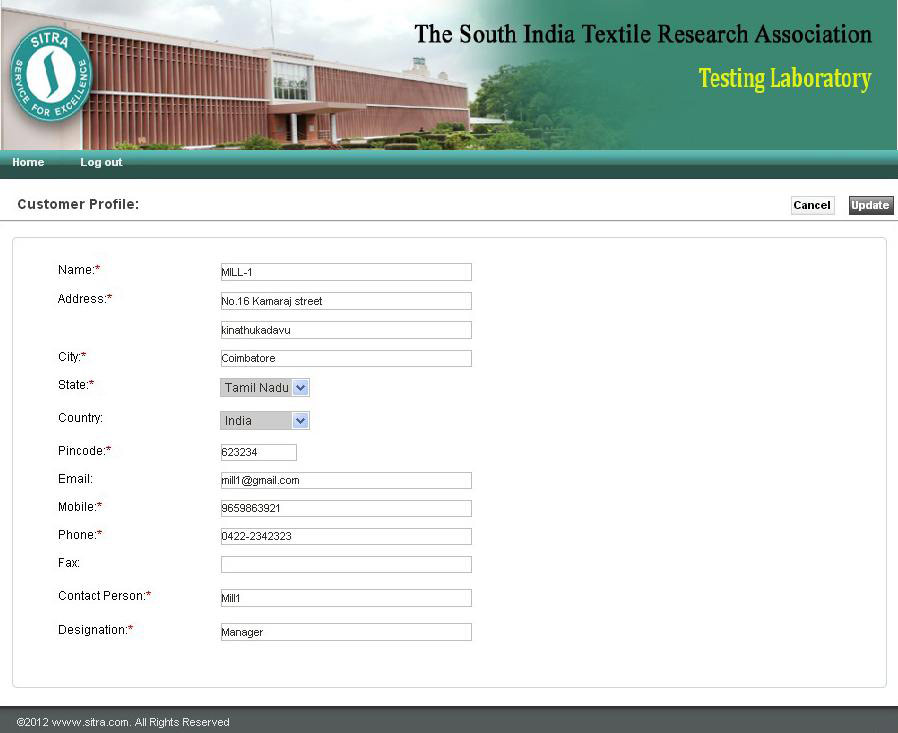 4. Testing Request
The following screenshot shows the sample testing request screen.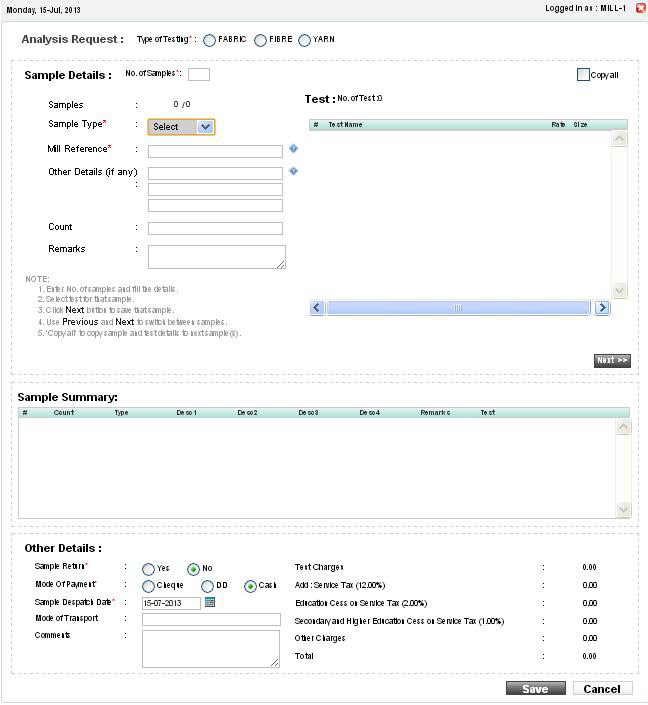 Testing request screen is composed of 4 blocks, block 1 and block 4 contains general details about the request. Block 2 captures individual sample-wise details. In this block, suppose sample no. field shows 1/10, then other details in this block pertain to sample 1 of that particular request. We can navigate between different samples using the "Prev" and "Next" buttons given at the bottom of block 2. Instead of selecting test for each sample, we can use "Copy all" option provided at the top to copy test selected in one sample to other samples in the request. Sample-wise details entered in block 2 are summarized and displayed in block 3. Sample Request Screen with filled data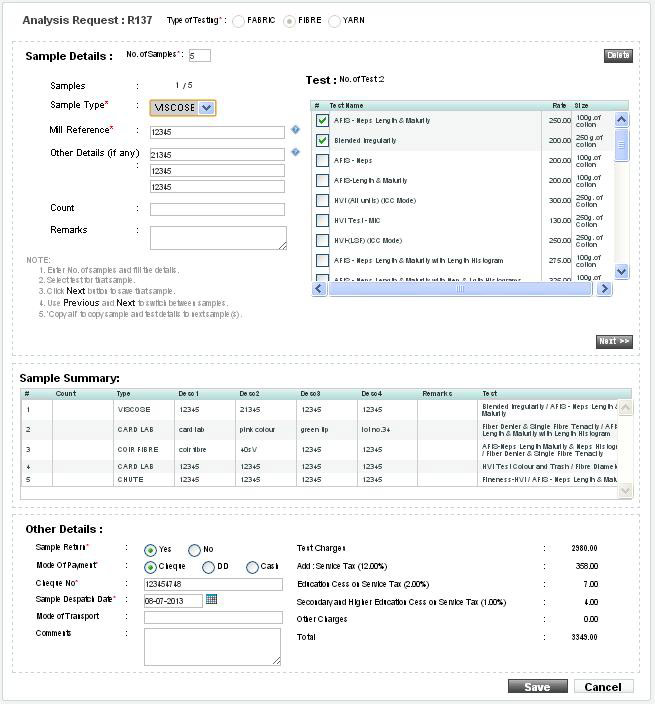 5. Sample Status
Using this menu, mill can see the status of their samples. The 1st grid shows the status of inwards generated at SITRA. In other hand, the second grid shows the details of testing requests made by the mill. Once sample is received at SITRA, then testing request is moved from grid 2 to grid 1.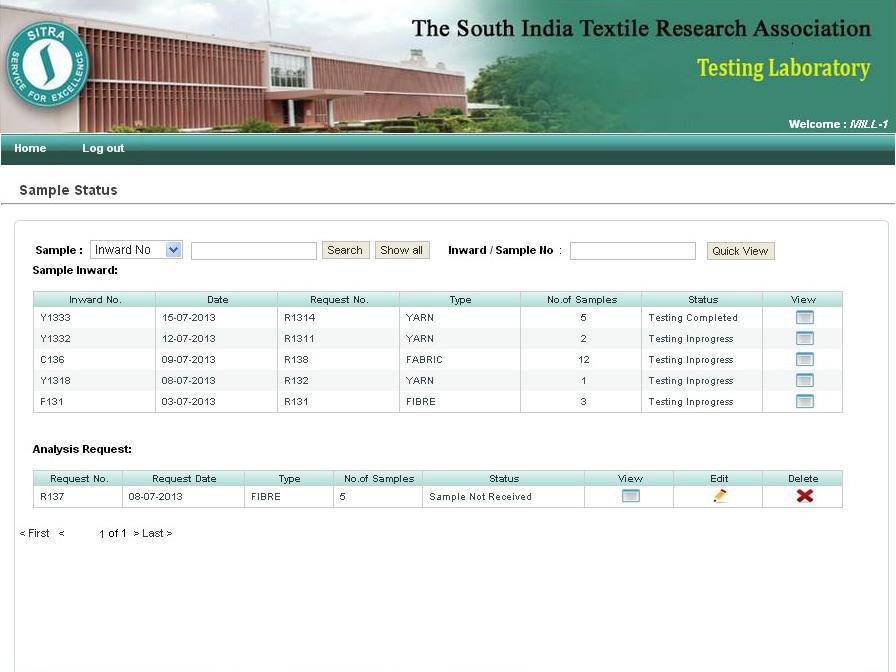 6.Test Report Archives
Using this option, mill can take copies of their reports as well as they can view inward-wise pending status,Test report print and invoice details.
Inward-wise Pending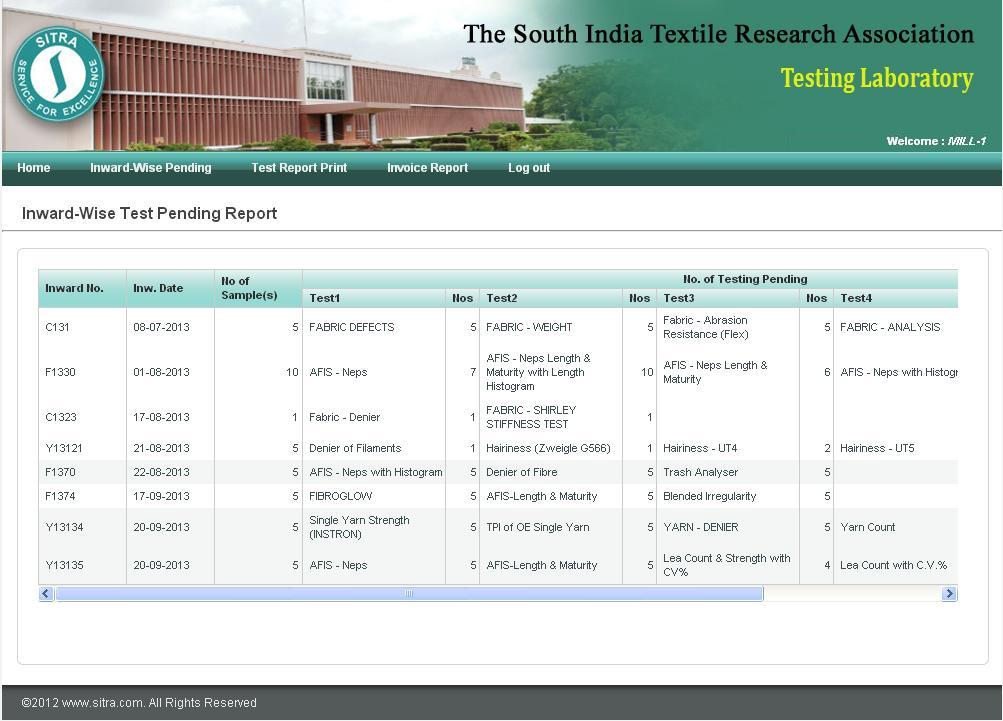 Test Report Print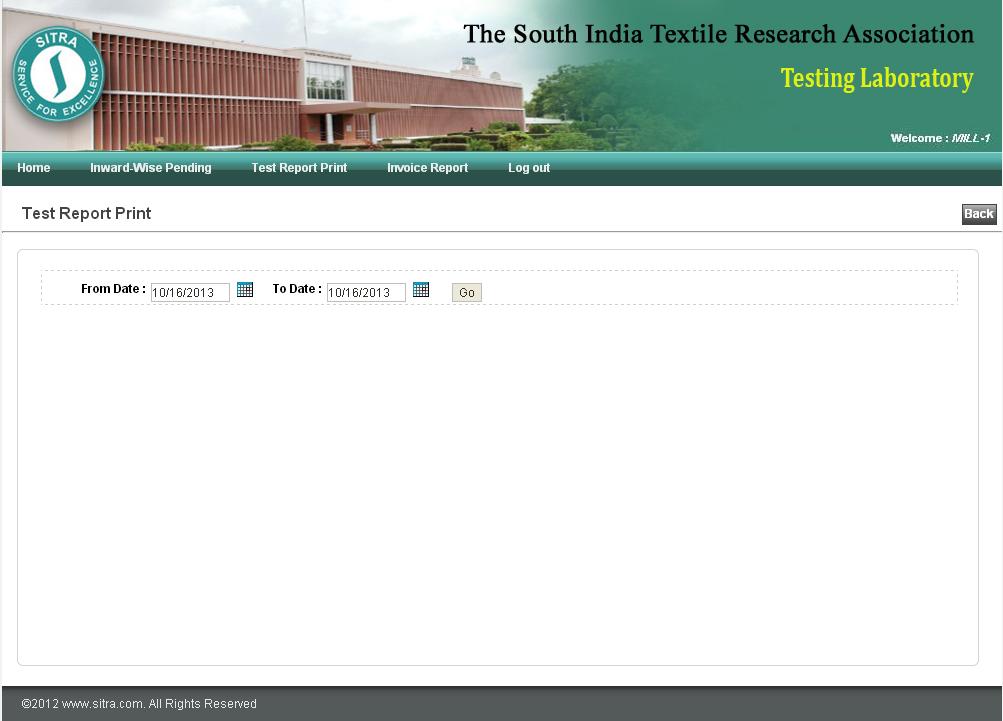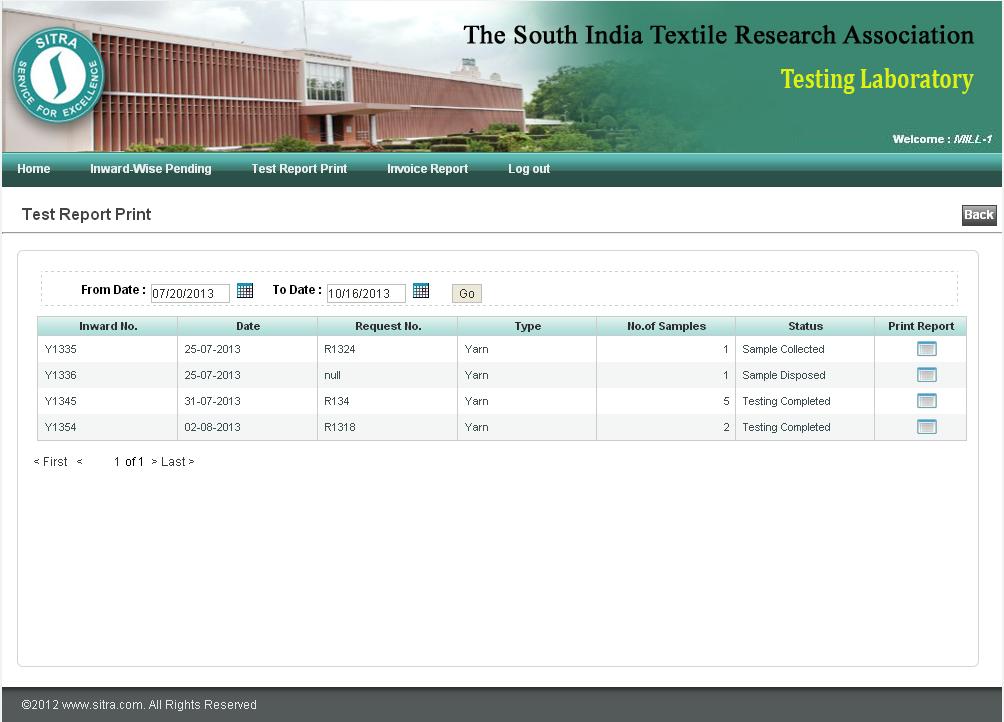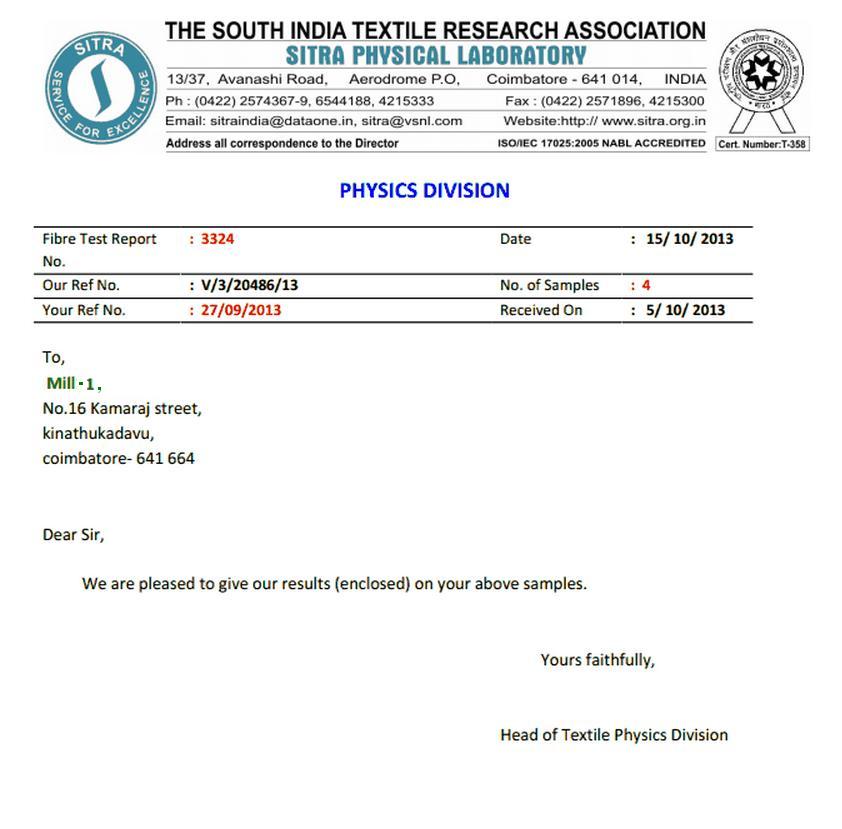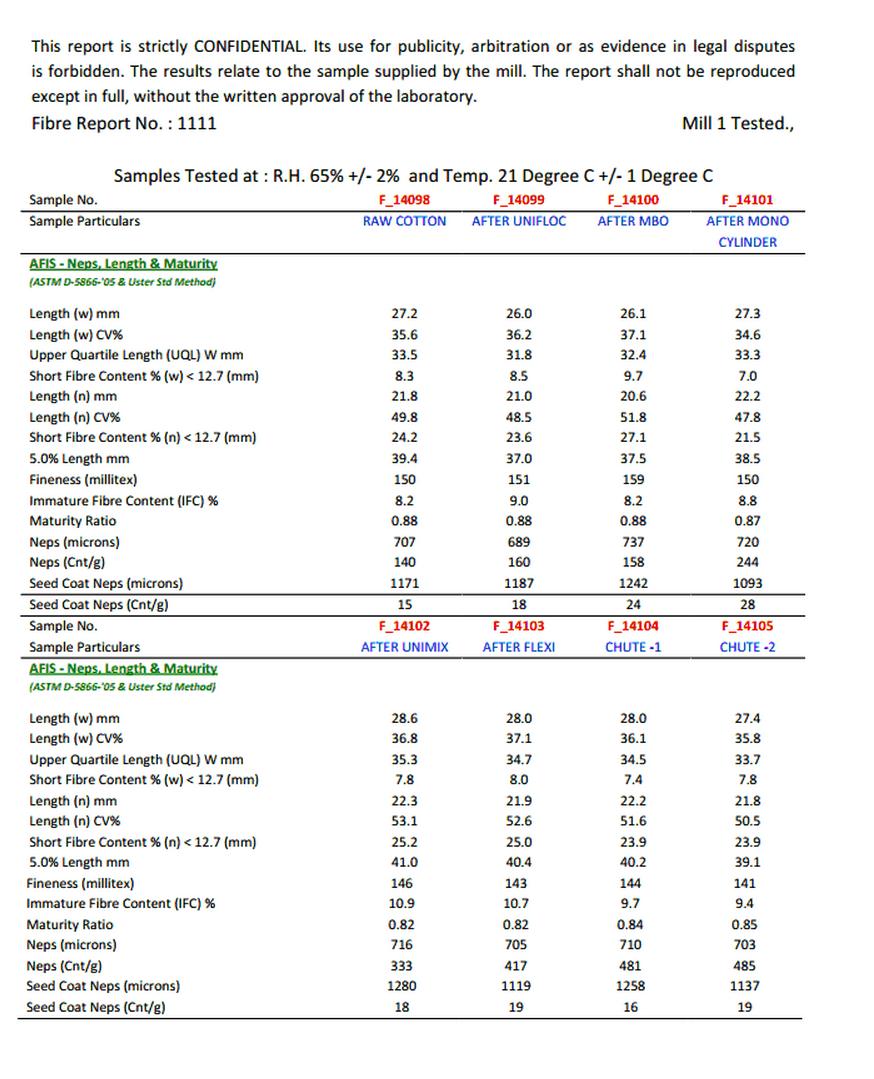 Invoice Report pending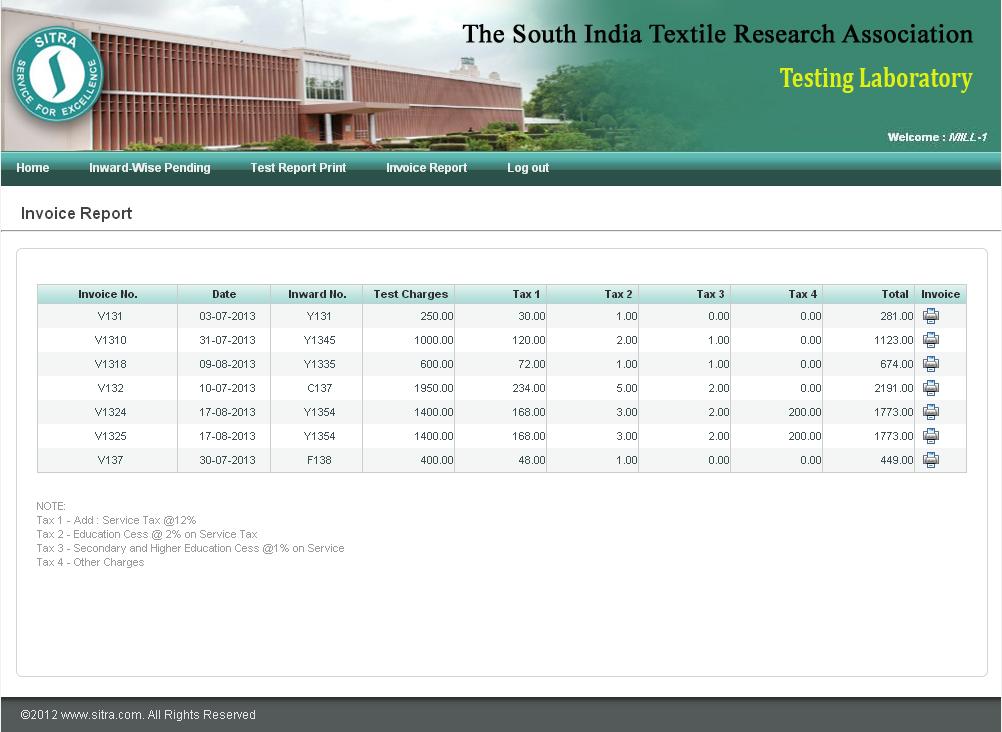 Model invoice copy given below :
7. Fibre Tests
This screen shows the list of fibre tests.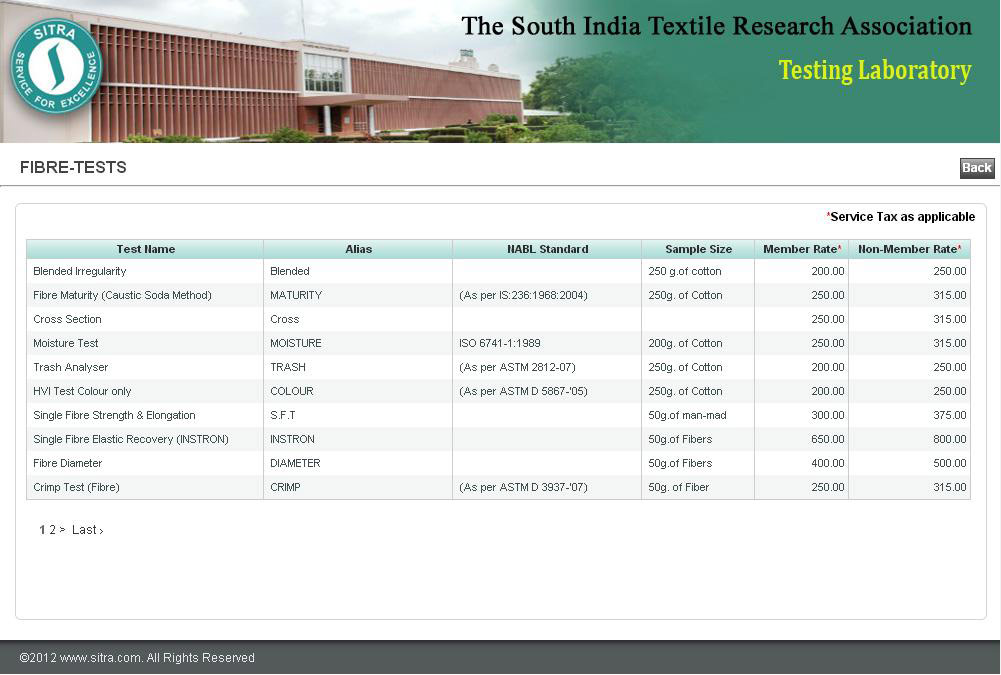 8. Yarn Tests
This screen shows the list of yarn tests carried out in SITRA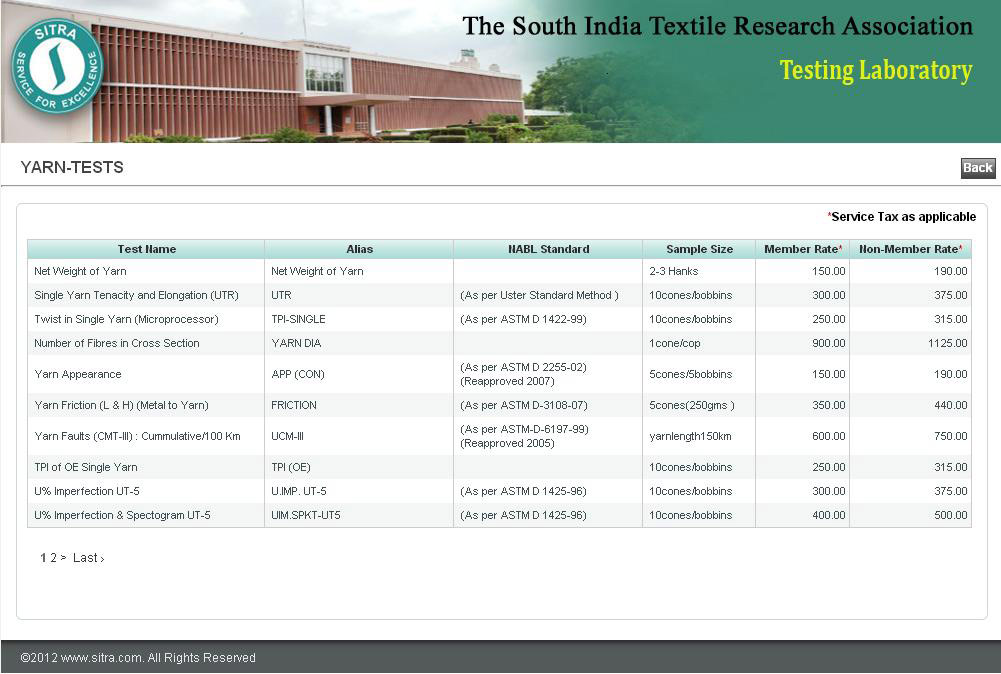 9. Fabric Tests
This screen shows the list of fabric tests carried out in SITRA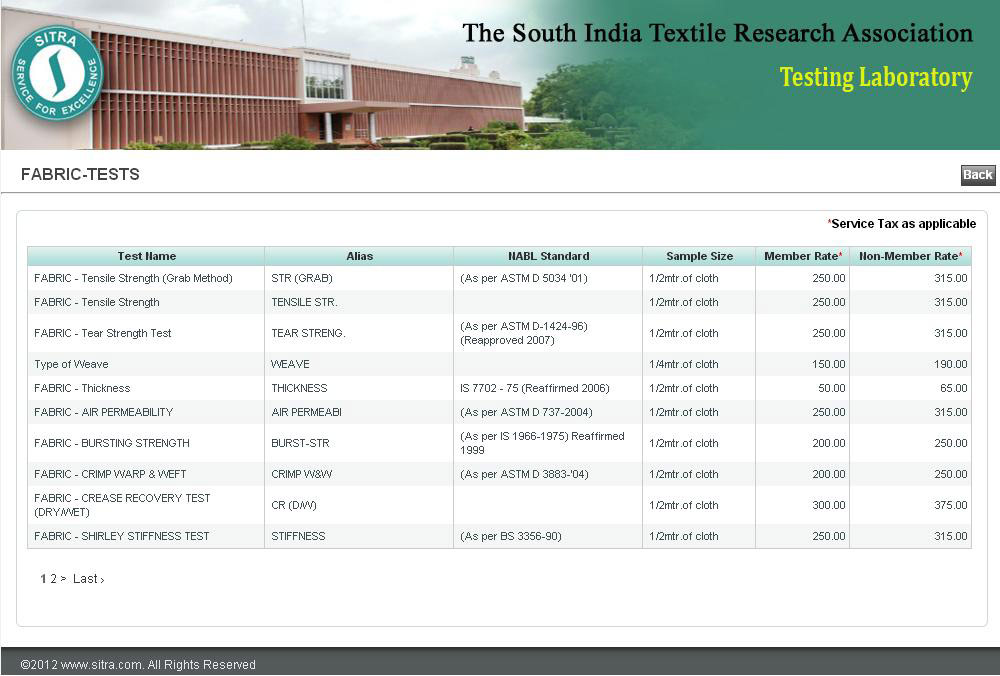 10. Contact us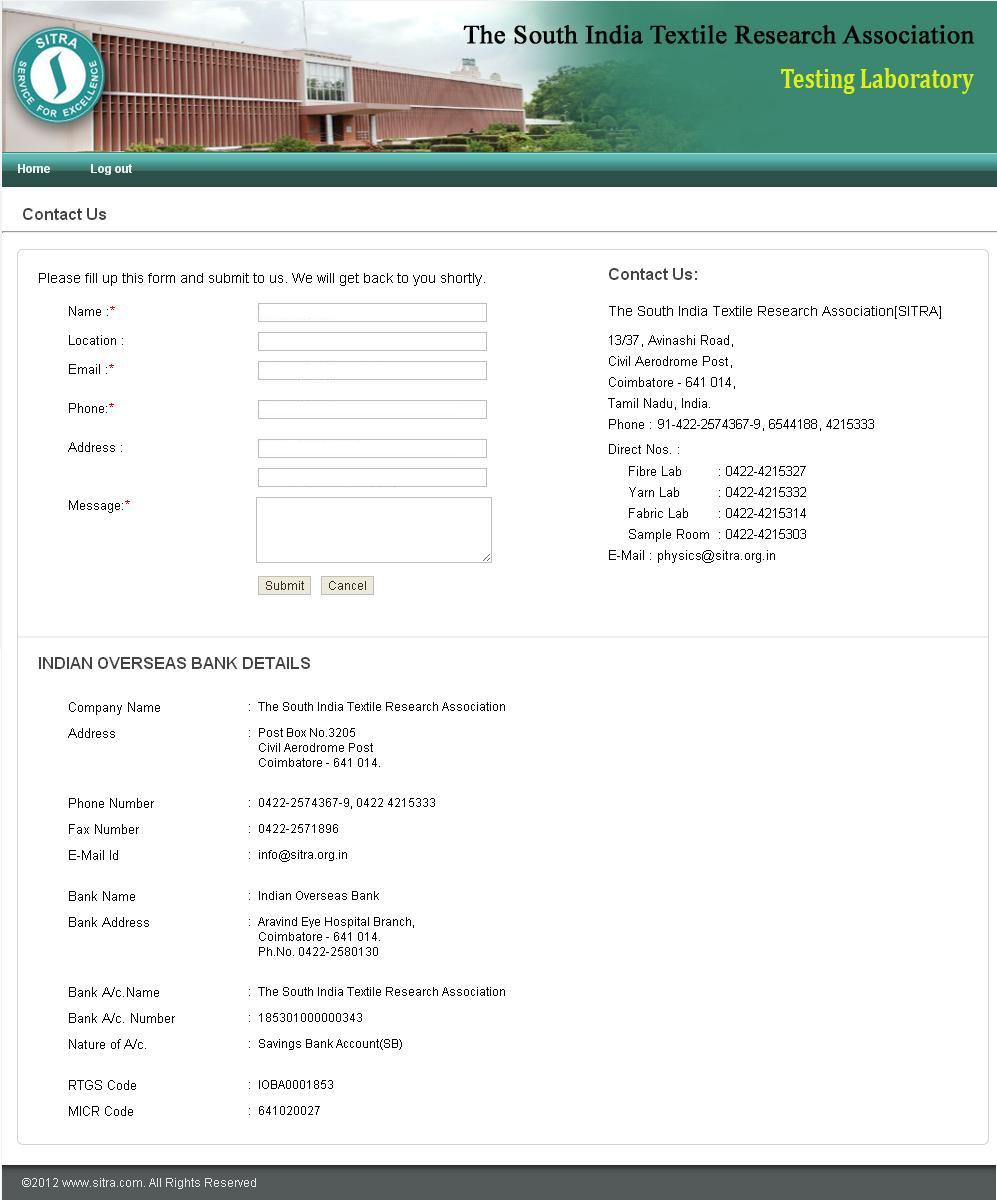 11. Announcement
NEW TESTING INSTRUMENT AT SITRA
Uster Classimat-5 Tester:
Infrequent yarn faults are long thick places, long thin places, thick ends, spinners doubles, etc. and are rare so that a longer length of yarn needs to be analysed. The classimat system enables a quick and objective estimate of these types of faults. In this context, we are pleased to inform that SITRA has recently acquired an USTER Classimat-5 installation. The Uster Classimat-5 gives all the traditional classification standards, while broadening its focus an estimation of foreign fibre contaminations, periodic faults etc., The Uster classimat-5 also provides conversion to the previous classimat generations (Classimat Quantum & Classimat-3). Here classing of yarns faults into 30 thick and 15 thin places are done based on the length and dimension of the faults.
Standard and extended NSLT classes of faults (UCM-5, Quantum & UCM-3 are available)
Visual representation of the yarn body profile
Dense area for foreign matter (FD)
Dense area for Vegetable matter (VEG)
Scatter plot for polypropylene (PP)
Quality outliers
This latest generation Classimat-5 brings quality assurance to a new level introducing a range of new features and capabilities which redefine this instrument and make it an indispensible testing and decision tool for both producers and users of yarn. Further, comprehensive comparison possibilities with integrated Uster Statistics bench marks facilitate checks against global quality standards.